Hourly to Daily Alibaba Cloud ECS backups made simple and flexible.
Schedule more frequent and worry-free Alibaba Cloud backups for your ECS Instances.
Start 14-day FREE trial
Flexible Alibaba Cloud Backups tailored for your needs.
Frequent backups
Keep your ECS Instances safe with Alibaba Cloud Daily to Hourly Backups. Schedule the backup snapshots as frequently as you want.
Archived backups
Easy and powerful backup retention that will reduce the costs with your cloud provider while still having access to your most important backups.
Fast recovery
When the worst happens, you will be able to quickly spin up a new ECS Instance from any of your Alibaba Cloud snapshots and get back online.
Powerful & easy backup settings
With our simple, yet powerful backup settings you can easily configure when the backups should be taken and for how long we should keep them.
Backup your Alibaba Cloud ECS Instances as frequently as you need.
Connect multiple accounts
Do you have more than one Alibaba Cloud account? No problem! You can easily connect as many Alibaba Cloud accounts as you may need.
This applies to other providers as well.
Cloudlets overview & auto-discovery
View all the snapshots of a cloud server, filter by status, tags and manually create or delete each one of them.
Additionally, when a new ECS Instance is created, it will be automatically imported and backups will start based on your configured settings.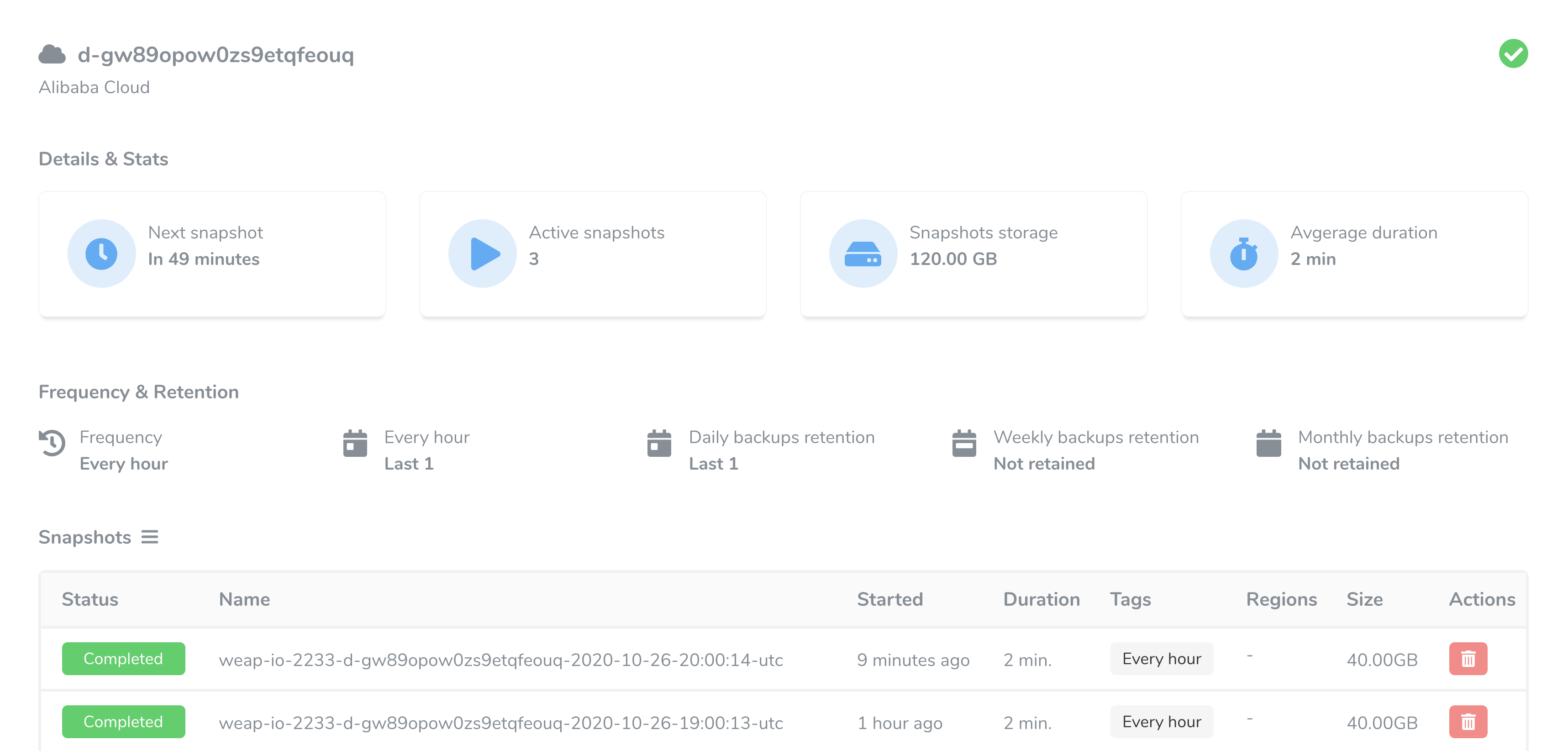 Simple setup & reduced costs
Just connect your Alibaba Cloud account, configure the backup schedule and it's done.
Frequently asked questions
If you have other questions, feel free to reach us out.
What is a Cloudlet?
A Cloudlet is a Alibaba Cloud ECS Instance for which Weap.io will create backup snapshots.
How many snapshots can I create?
As many as you need! We don't limit the number of backup snapshots you create.
How much does Alibaba Cloud charge?
Since snapshots are securely stored inside Alibaba's infrastructure, they will charge you a monthly fee for each GB stored. To find the exact amount, check their documentation.
Can I try Weap for free?
Of course! There is no credit card required and you get access to all our great features for a period of 14 days! After that, it's your choice to use Weap.io further or just stop.
Used by great companies.
Which enjoy having worry-free backups.